[textdivider text="" color="#e72323″ line="#000000″]
[column size="1-2″ style="0″ last="0″]
Welkom bij Dakbeheer Brabant
U zoekt een dakdekker in uw regio? Dakbeheer Brabant is landelijk actief. Bij ons bent u aan het juiste adres voor het vervangen van o.a. dakbedekking, lood- en zinkwerk , pannendaken, boeiboorden en schoorsteen renovaties in de particulieren sector. Ook voor reparaties en onderhoud aan uw dak kunt u bij ons terecht. U kunt van ons altijd de beste prijs- en kwaliteitsverhouding verwachten. Zo werken wij altijd met A kwaliteit materialen en proberen altijd de beste service te verlenen.
[/column]
[column size="1-2″ style="0″ last="1″]
Online offerte aanvraag!
Binnen twee uur een offerte op maat. Volg de stappen en u ontvangt een pasklare prijs in uw mailbox. Wilt u de opdracht vervolgens definitief plaatsen? U kiest zelf wanneer we bij u 'over de vloer' komen voor een kennismakingsgesprek. Wij komen (landelijk) vrijblijvend langs voor een offerte op maat. Wilt u gebruik maken van onze gratis dak inspectie om inzicht te krijgen in de actuele status van uw dak maak dan hieronder uw keuze.
[fancy_link color="#ff0000″ link="http://dakbeheerbrabant.nl/?page_id=12″]Klik hier om een vrijblijvende offerte aan te vragen[/fancy_link].
[/column]
Voorkom een lekkage
Een lekkage aan het dak is erg vervelend en natuurlijk zit niemand hier op te wachten. De grootste oorzaak van een lekkage is als een dak slecht of nauwelijks onderhouden is.
Een plat dak is echter niet helemaal plat
Platte daken zijn vervaardigd van draagbalken met daarop houten planken en wordt bedekt met afdekmateriaal. Een plat dak is echter niet helemaal plat. Elk plat dak heeft een lichte helling zodat het regenwater wat er op komt te liggen, afgevoerd kan worden.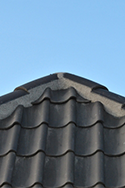 Door slijtage verliezen de pannen hun functie.
Weersomstandigheden of andere oorzaken zoals slijtage kunnen ervoor zorgen dat uw dak aangetast wordt.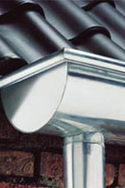 Dakgoten zorgen voor een goede afvoer van het regenwater.
Het is daarom belangrijk uw dakgoot jaarlijks te laten reinigen. Dit voorkomt opstoppingen, slijtage en verlengt tevens de levensduur van uw dakgoot.